Hi everyone!
We are pretty excited about announcing a new feature that we have been working on.
One of the things that the Tidbyt does well is to show the information you need without any cruft in a structured way, visible from anywhere in the room. Now, one thing that we want to get better at is to show it to you when you need it, and not have to wait for it to show up. We are still pretty committed to ensuring that you should keep your phone in your pocket, as much as possible at least. And lacking other means of hardware control, at least right now, we have been thinking about how we can get better in this area.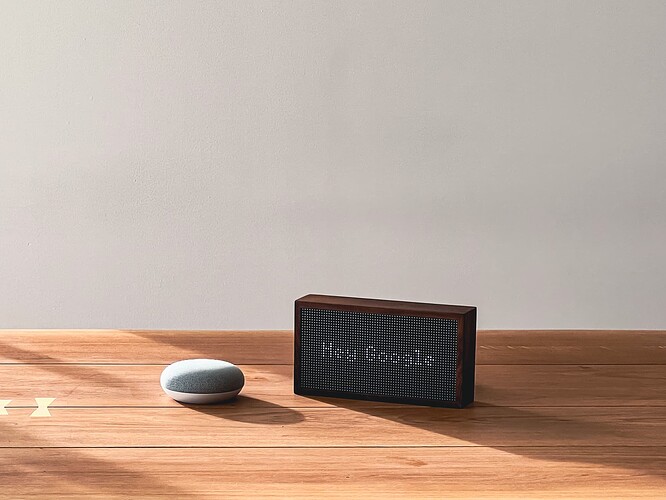 Smart home integration with Google home
With Google home integration, you can ask your voice assistant to display the app that you want, when you need it. You can ask for transit before leaving for your commute, todays weather, when the next Mets game is, or any of the hundreds of apps that's available on the Tidbyt!
We believe that this is something that has been missing in the smart home space. Asking my voice assistant for the next subway train is great, but the information is hard to parse if you are not paying attention to what is being said. Instead, getting that information visually on a Tidbyt is just such a more natural way to consume it.
This is also plays well with our recent release of pin / mute. Asking your voice assistant for an app that is installed on the Tidbyt that is muted or not pinned at the moment, will override that setting and show the app once before going back to being muted or unpinned.
Disclaimer : We are offering this a Beta feature right now, it's available and free for anyone to use. Availability of this feature might change in the future as we learn more about how it performs and how it's being used.
What about Alexa?
The reason why we started with Google home is because most of us here are Google home users. If the feature gets good response, and is being used by our users, we will look into adding Alexa support as well
What about Homekit?
Really just the same as above
What about Home Assistant?
This is something that has been a somewhat popular feature request and something that we are interested in as well. This however comes with a bit more complexity on implementing to make this work in a good way with the HA ecosystem, but we are exploring it.
We will continue to think about the smart home space and see how some of these features are used which will also help guide our investments in the area.
Install instructions
In the Google home app, click the plus icon in the upper left corner
Press Setup device
Press works with Google
Search for Tidbyt and add it
Link your gmail account with Tidbyt
You should now be presented with your Tidbyt device, is currently a lightbulb (there aren't any device types like the Tidbyt available)
Once you have selected the device and picked what room to assign it to, it should now be available to use
Usage
To show an app, do "Hey Google, show on

e.g. "Hey Google, show NYC Subway on Bedroom Tidbyt"
You can also try omitting the name of the Tidbyt and just say "show appname on Tidbyt", but we have found that the exact name works more reliably, YMMV.
We are also looking into adding nicknames, i.e. show subway instead of NYC Subway

The app that you want to display needs to already be installed on your Tidbyt
You can also use voice commands to set the brightness of the display

e.g. "Hey Google, set brightness to 50% on Bedroom Tidbyt"

If you have apps on schedule or muted, the voice command will override the schedule and show the app once and then go back to it's regular schedule / muted state