I've got a custom app I'm running on a raspberry pi that updates every 5 minutes. It creates a .webp file that loops through 3 data points (three 'screens') in one image). But for some reason only the first two data points/'screens' ever show up on the tidbyt. When I render locally the three 'screens' are there but only the first two ever display on the tidbyt.


There's the .webp I'm pushing to the tidbyt. (Before I changed a data point calculation, so the lightning bolt kWh is now just Watts)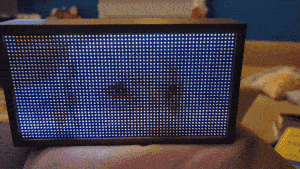 This is a gif of a video I took of it only showing the first two data screens of my .webp file
Any ideas what might be up with it? is there a time length limit on .webp files, which means it gets truncated or something?
Thanks!