Hey just got mine today, ahead of Christmas so thank you for that. Device looks beautiful but I haven't been able to progress past the "Open Tidbyt App" or Bluetooth screen.
I am receiving "Couldn't connect to the internet" from my 2.4ghz network with the Tidbyt sitting a few feet away.
I am using a Netgear C6300 router using the latest Android app on the store on a Pixel 5.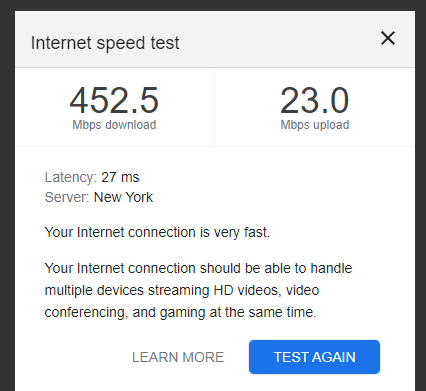 Here is the stacktrace,
I (35508) tidbyt/ble: Sent event: CONFIGURE
I (35518) tidbyt/sprites: Loading sprite 2 from asset (5614 bytes)
I (35528) tidbyt/configure: Waiting for config via Bluetooth
I (63388) tidbyt: free memory - exec: 65416, internal: 66883, DMA: 58019, malloc: 4138995
I (63408) tidbyt: memory low watermark - exec: 65196, internal: 66335, DMA: 57483, malloc: 4117431
I (93418) tidbyt: free memory - exec: 65416, internal: 66883, DMA: 58019, malloc: 4139775
I (93418) tidbyt: memory low watermark - exec: 65196, internal: 66335, DMA: 57483, malloc: 4117431
I (123428) tidbyt: free memory - exec: 65052, internal: 66459, DMA: 57595, malloc: 4138443
I (123428) tidbyt: memory low watermark - exec: 64924, internal: 66063, DMA: 57211, malloc: 4117131
I (126298) tidbyt/configure: Received configuration attributes via Bluetooth
I (127778) tidbyt: Entering state CONNECT (3).
I (127788) tidbyt/ble: Sent event: INIT_CONNECT
I (127788) tidbyt/connect: Configuring wifi network: SIENA 2013
I (127788) tidbyt: free memory - exec: 64720, internal: 66471, DMA: 57607, malloc: 4138523
I (127798) tidbyt/cloud: using device status topic: /devices/fervently-exulting-refined-lorikeet-b2c/state
I (127808) tidbyt/cloud: using heartbeat topic: /devices/fervently-exulting-refined-lorikeet-b2c/events/heartbeat
I (127818) tidbyt/crypto: Parsed private key with bit length 256.
I (127828) tidbyt/crypto: Using ECDSA with public key:
-----BEGIN PUBLIC KEY-----
MFkwEwYHKoZIzj0CAQYIKoZIzj0DAQcDQgAEQaIlpkUQf901xWn71p5dTwnQq9gj
+vFlP6IoMaa/mPJ2pd7XgMBZagkyjvc7c2/bdSl4WoF30hzK1JKnaDI26g==
-----END PUBLIC KEY-----

I (127848) tidbyt/sprites: Loading sprite 3 from asset (29868 bytes)
I (127808) tidbyt: memory low watermark - exec: 64676, internal: 65815, DMA: 56963, malloc: 4116603
I (127868) tidbyt/ble: Sent event: WIFI_CONNECT
I (127898) wifi:new:<6,0>, old:<1,0>, ap:<255,255>, sta:<6,0>, prof:1
I (127898) wifi:state: init -> auth (b0)
I (127948) wifi:state: auth -> assoc (0)
I (127978) wifi:state: assoc -> run (10)
I (128008) wifi:connected with SIENA 2013, aid = 2, channel 6, BW20, bssid = 6c:b0:ce:8b:bb:f3
I (128008) wifi:security: WPA2-PSK, phy: bgn, rssi: -27
I (128288) wifi:pm start, type: 1

I (128288) wifi:AP's beacon interval = 102400 us, DTIM period = 1
I (128298) tidbyt/wifi: SYSTEM_EVENT_STA_CONNECTED connected...
I (131128) esp_netif_handlers: sta ip: 192.168.0.92, mask: 255.255.255.0, gw: 192.168.0.1
I (131128) tidbyt/wifi: SYSTEM_EVENT_STA_GOT_IP IP assigned...
I (131148) tidbyt/ble: Sent event: SYNC_CLOCK
I (131148) tidbyt/connect: SNTP synchronizing time...
I (131148) tidbyt/connect: Synchronizing clock with time.google.com (backup: pool.ntp.org)
E (157858) tidbyt/connect: switching back to CONFIGURE since a BLE peer is connected
I (157878) tidbyt: Entering state CONFIGURE (2).
I (157878) tidbyt/ble: Sent event: CONFIGURE
I (157878) wifi:state: run -> init (0)
I (157878) wifi:pm stop, total sleep time: 24302395 us / 29592564 us

I (157888) wifi:new:<6,0>, old:<6,0>, ap:<255,255>, sta:<6,0>, prof:1
I (157898) tidbyt/wifi: SYSTEM_EVENT_STA_DISCONNECTED reason code: 8
I (157898) tidbyt/wifi: Unhandled wifi disconnect event 8
W (157908) wifi:sta_scan: STA is connecting, scan are not allowed!
I (157908) tidbyt: free memory - exec: 46528, internal: 47987, DMA: 39123, malloc: 4071779
E (157908) tidbyt/configure: starting wifi scan: ESP_FAIL
I (157918) tidbyt: memory low watermark - exec: 46292, internal: 47431, DMA: 38579, malloc: 4046343
I (158018) tidbyt: Entering state ERROR (-1).
E (158018) tidbyt: Couldn't find handler for state: ERROR (-1).
W (158018) tidbyt: Handler loop suspended due to error, restarting in 5 seconds.
W (159028) tidbyt: Handler loop suspended due to error, restarting in 4 seconds.
I (159888) wifi:new:<6,0>, old:<6,0>, ap:<255,255>, sta:<6,0>, prof:1
I (159898) wifi:state: init -> auth (b0)
I (159908) wifi:state: auth -> assoc (0)
I (159938) wifi:state: assoc -> run (10)
I (159988) wifi:connected with SIENA 2013, aid = 2, channel 6, BW20, bssid = 6c:b0:ce:8b:bb:f3
I (159988) wifi:security: WPA2-PSK, phy: bgn, rssi: -26
I (159998) wifi:pm start, type: 1

I (160008) tidbyt/wifi: SYSTEM_EVENT_STA_CONNECTED connected...
I (160018) wifi:AP's beacon interval = 102400 us, DTIM period = 1
W (160028) tidbyt: Handler loop suspended due to error, restarting in 3 seconds.
W (161028) tidbyt: Handler loop suspended due to error, restarting in 2 seconds.
W (162028) tidbyt: Handler loop suspended due to error, restarting in 1 seconds.
I (162128) esp_netif_handlers: sta ip: 192.168.0.92, mask: 255.255.255.0, gw: 192.168.0.1
I (162128) tidbyt/wifi: SYSTEM_EVENT_STA_GOT_IP IP assigned...
W (163028) tidbyt: Handler loop suspended due to error, restarting in 0 seconds.
W (164028) tidbyt: Restarting...
I (164058) wifi:state: run -> init (0)
I (164058) wifi:pm stop, total sleep time: 2538326 us / 4058245 us

I (164058) wifi:new:<6,0>, old:<6,0>, ap:<255,255>, sta:<6,0>, prof:1
W (164058) wifi:age timer already deinit
W (164068) wifi:hmac tx: ifx0 stop, discard
I (164068) tidbyt/wifi: SYSTEM_EVENT_STA_DISCONNECTED reason code: 8
I (164078) tidbyt/wifi: Unhandled wifi disconnect event 8
I (164368) wifi:flush txq
I (164368) wifi:stop sw txq
I (164368) wifi:lmac stop hw txq
ets Jun  8 2016 00:22:57

rst:0xc (SW_CPU_RESET),boot:0x13 (SPI_FAST_FLASH_BOOT)
configsip: 0, SPIWP:0xee
clk_drv:0x00,q_drv:0x00,d_drv:0x00,cs0_drv:0x00,hd_drv:0x00,wp_drv:0x00
mode:DIO, clock div:2
load:0x3fff0030,len:7780
load:0x40078000,len:14292
load:0x40080400,len:3688
entry 0x40080678
I (27) boot: ESP-IDF 4.3.0 2nd stage bootloader
I (27) boot: compile time 15:24:13
I (27) boot: chip revision: 1
I (30) boot_comm: chip revision: 1, min. bootloader chip revision: 0
I (38) boot.esp32: SPI Speed      : 40MHz
I (41) boot.esp32: SPI Mode       : DIO
I (46) boot.esp32: SPI Flash Size : 8MB
I (51) boot: Enabling RNG early entropy source...
I (56) boot: Partition Table:
I (60) boot: ## Label            Usage          Type ST Offset   Length
I (67) boot:  0 nvs              WiFi data        01 02 00009000 00005000
I (74) boot:  1 otadata          OTA data         01 00 0000e000 00002000
I (82) boot:  2 app0             OTA app          00 10 00010000 003f0000
I (89) boot:  3 app1             OTA app          00 11 00400000 003f0000
I (97) boot: End of partition table
I (101) boot_comm: chip revision: 1, min. application chip revision: 0
I (108) esp_image: segment 0: paddr=00010020 vaddr=3f400020 size=5343ch (341052) map
I (245) esp_image: segment 1: paddr=00063464 vaddr=3ffbdb60 size=049c8h ( 18888) load
I (253) esp_image: segment 2: paddr=00067e34 vaddr=40080000 size=081e4h ( 33252) load
I (268) esp_image: segment 3: paddr=00070020 vaddr=400d0020 size=f55ech (1005036) map
I (647) esp_image: segment 4: paddr=00165614 vaddr=400881e4 size=15314h ( 86804) load
I (684) esp_image: segment 5: paddr=0017a930 vaddr=50000000 size=00010h (    16) load
I (700) boot: Loaded app from partition at offset 0x10000
I (700) boot: Disabling RNG early entropy source...
I (712) psram: This chip is ESP32-D0WD
I (712) spiram: Found 64MBit SPI RAM device
I (713) spiram: SPI RAM mode: flash 40m sram 40m
I (717) spiram: PSRAM initialized, cache is in low/high (2-core) mode.
I (725) cpu_start: Pro cpu up.
I (728) cpu_start: Starting app cpu, entry point is 0x400825c4
I (722) cpu_start: App cpu up.
I (750) cpu_start: Pro cpu start user code
I (750) cpu_start: cpu freq: 160000000
I (750) cpu_start: Application information:
I (755) cpu_start: Project name:     tidbyt
I (760) cpu_start: App version:      7810
I (764) cpu_start: Compile time:     Oct 20 2021 18:37:35
I (770) cpu_start: ELF file SHA256:  59dd427de54d750a...
I (776) cpu_start: ESP-IDF:          4.3.0
I (782) heap_init: Initializing. RAM available for dynamic allocation:
I (788) heap_init: At 3FFAFF10 len 000000F0 (0 KiB): DRAM
I (794) heap_init: At 3FFB6388 len 00001C78 (7 KiB): DRAM
I (801) heap_init: At 3FFB9A20 len 00004108 (16 KiB): DRAM
I (807) heap_init: At 3FFC7B50 len 000184B0 (97 KiB): DRAM
I (813) heap_init: At 3FFE0440 len 00003AE0 (14 KiB): D/IRAM
I (819) heap_init: At 3FFE4350 len 0001BCB0 (111 KiB): D/IRAM
I (826) heap_init: At 4009D4F8 len 00002B08 (10 KiB): IRAM
I (832) spiram: Adding pool of 4096K of external SPI memory to heap allocator
I (841) spi_flash: detected chip: gd
I (844) spi_flash: flash io: dio
I (850) cpu_start: Starting scheduler on PRO CPU.
I (0) cpu_start: Starting scheduler on APP CPU.
I (858) spiram: Reserving pool of 32K of internal memory for DMA/internal allocations
I (868) tidbyt: Entering state BOOT (1).
I (868) tidbyt/boot: Initializing high-resolution timers...
I (878) tidbyt/boot: Initialized high-resolution timers.
I (888) gpio: GPIO[15]| InputEn: 1| OutputEn: 0| OpenDrain: 0| Pullup: 1| Pulldown: 0| Intr:3 
I (888) tidbyt/boot: Initializing non-volatile storage...
I (938) tidbyt/boot: Initialized non-volatile storage.
I (938) tidbyt/boot: Initializing configuration system...
I (938) tidbyt/boot: Initialized configuration system.
I (948) tidbyt/boot: ESP chip model: 1
I (948) tidbyt/boot: ESP silicon revision: 1 
I (958) tidbyt/boot: ESP flash size: 8388608
I (958) tidbyt/boot: Build environment: tidbyt-v10
I (968) system_api: Base MAC address is not set
I (968) system_api: read default base MAC address from EFUSE
I (978) tidbyt/boot: Bluetooth MAC: 34AB95F6D87E
I (978) tidbyt/boot: Initializing display...
I (988) gpio: GPIO[21]| InputEn: 0| OutputEn: 1| OpenDrain: 0| Pullup: 0| Pulldown: 0| Intr:0 
I (998) gpio: GPIO[23]| InputEn: 0| OutputEn: 1| OpenDrain: 0| Pullup: 0| Pulldown: 0| Intr:0 
I (1008) gpio: GPIO[2]| InputEn: 0| OutputEn: 1| OpenDrain: 0| Pullup: 0| Pulldown: 0| Intr:0 
I (1018) gpio: GPIO[4]| InputEn: 0| OutputEn: 1| OpenDrain: 0| Pullup: 0| Pulldown: 0| Intr:0 
I (1018) gpio: GPIO[22]| InputEn: 0| OutputEn: 1| OpenDrain: 0| Pullup: 0| Pulldown: 0| Intr:0 
I (1028) gpio: GPIO[27]| InputEn: 0| OutputEn: 1| OpenDrain: 0| Pullup: 0| Pulldown: 0| Intr:0 
I (1038) gpio: GPIO[33]| InputEn: 0| OutputEn: 1| OpenDrain: 0| Pullup: 0| Pulldown: 0| Intr:0 
I (1048) gpio: GPIO[19]| InputEn: 0| OutputEn: 1| OpenDrain: 0| Pullup: 0| Pulldown: 0| Intr:0 
I (1058) gpio: GPIO[32]| InputEn: 0| OutputEn: 1| OpenDrain: 0| Pullup: 0| Pulldown: 0| Intr:0 
*** ESP32-HUB75-MatrixPanel-I2S-DMA: Memory Allocations Complete ***
Total memory that was reserved: 44 kB.
... of which was used for the DMA Linked List(s): 12 kB.
Heap Memory Available: 4359118 bytes total. Largest free block: 2097152 bytes.
General RAM Available: 4348311 bytes total. Largest free block: 2097152 bytes.
I (1108) tidbyt/display_queue: Updating screen duration to 15000ms
I (1108) tidbyt/boot: Initialized display.
I (1108) tidbyt/sprites: Loading sprite 0 from asset (2806 bytes)
E (1118) tidbyt/display_queue: nothing to draw to the display
I (1128) tidbyt/boot: Initializing wifi...
I (1218) tidbyt: free memory - exec: 126816, internal: 134663, DMA: 125799, malloc: 4309707
I (1218) tidbyt: memory low watermark - exec: 126804, internal: 134591, DMA: 125739, malloc: 4269031
I (1308) wifi:wifi driver task: 3ffdea24, prio:23, stack:6656, core=0
I (1318) wifi:wifi firmware version: c7d0450
I (1318) wifi:wifi certification version: v7.0
I (1318) wifi:config NVS flash: enabled
I (1318) wifi:config nano formating: disabled
I (1328) wifi:Init data frame dynamic rx buffer num: 32
I (1328) wifi:Init management frame dynamic rx buffer num: 32
I (1338) wifi:Init management short buffer num: 32
I (1338) wifi:Init static tx buffer num: 16
I (1348) wifi:Init tx cache buffer num: 32
I (1348) wifi:Init static rx buffer size: 1600
I (1358) wifi:Init static rx buffer num: 8
I (1358) wifi:Init dynamic rx buffer num: 32
I (1378) wifi_init: tcpip mbox: 32
I (1378) wifi_init: udp mbox: 6
I (1378) wifi_init: tcp mbox: 6
I (1378) wifi_init: tcp tx win: 5744
I (1378) wifi_init: tcp rx win: 5744
I (1388) wifi_init: tcp mss: 1440
I (1388) wifi_init: WiFi/LWIP prefer SPIRAM
I (1388) wifi_init: WiFi RX IRAM OP enabled
I (1398) tidbyt/boot: Initialized wifi.
I (1398) tidbyt/boot: Initializing Bluetooth...
I (1428) BTDM_INIT: BT controller compile version [1342a48]
I (1438) phy_init: phy_version 4670,719f9f6,Feb 18 2021,17:07:07
I (1888) tidbyt/boot: Initialized Bluetooth.
I (1888) tidbyt/boot: Initializing I2C...
I (1888) tidbyt/boot: Initialized I2C...
I (2078) tidbyt/boot: ATCA serial: 0123f95f92db8815ee
I (3168) tidbyt/boot: ATCA public key: 196fdb1ee252f033fdea1069938e8c261e4cef67f38a91d615d580df7270c7bf19546e5830824d8ce4255e5fc1a1d32819a17094a209e6606cca24112232009e
I (3268) tidbyt: Entering state CONNECT (3).
I (3268) tidbyt/ble: Not sending event (2) since no peer connected
I (3278) tidbyt: free memory - exec: 69568, internal: 71051, DMA: 62187, malloc: 4161047
I (3278) tidbyt: memory low watermark - exec: 69452, internal: 70691, DMA: 61839, malloc: 4139691
I (3308) tidbyt: Entering state CONFIGURE (2).
I (3308) tidbyt/ble: Not sending event (1) since no peer connected
I (3308) tidbyt: free memory - exec: 69568, internal: 71051, DMA: 62187, malloc: 4161047
I (3318) wifi:mode : sta (34:ab:95:f6:d8:7c)
I (3318) wifi:enable tsf
I (3318) tidbyt: memory low watermark - exec: 69352, internal: 70591, DMA: 61739, malloc: 4139591
I (3328) tidbyt/wifi: SYSTEM_EVENT_STA_START wifi connecting...
I (3318) tidbyt/sprites: Loading sprite 1 from asset (210 bytes)
I (3338) tidbyt/configure: Wait for Bluetooth connection
W (3348) BT_BTM: BTM_BleWriteScanRsp, Partial data write into ADV
I (3368) tidbyt/ble: advertising data set successfully
I (3388) tidbyt/ble: advertising start successfully
I (33328) tidbyt: free memory - exec: 68484, internal: 71575, DMA: 62711, malloc: 4174075
I (33328) tidbyt: memory low watermark - exec: 68236, internal: 69375, DMA: 60523, malloc: 4133103
I (63328) tidbyt: free memory - exec: 68484, internal: 71575, DMA: 62711, malloc: 4173231
I (63328) tidbyt: memory low watermark - exec: 68236, internal: 69375, DMA: 60523, malloc: 4132723
I (93328) tidbyt: free memory - exec: 68484, internal: 71575, DMA: 62711, malloc: 4173807
I (93328) tidbyt: memory low watermark - exec: 68236, internal: 69375, DMA: 60523, malloc: 4132723