Any chance you guys can do black or gun metal frames?
Hi, welcome to the Tidbyt community!
Sourcing walnut and just getting the one option nailed down has been a lot of work in itself, so we're not offering anything else for now. We've definitely talked about having different frame & finish options down the road though.
Thanks for the quick response!
I'm going to probably use vinyl wrap for the frame! It's an easy modification and nonintrusive
Ooh, that'll be cool to see.
I spoke with someone yesterday who really loves maple so is actually planning on building their own frame entirely out of maple

BTW, here's the assembly diagram in case it's helpful: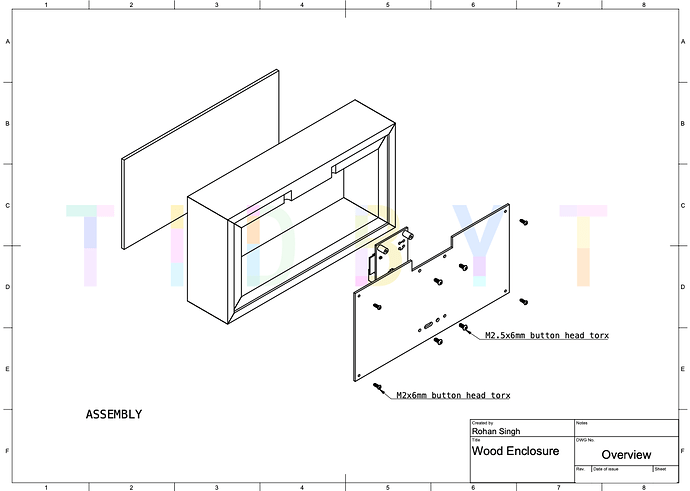 Thanks for the diagram above. Question. Is the USB-C power cable inset, so that we can hang in on the wall and it would be flush against the wall, or does the USB-C stick out which makes wall hanging a little awkward?
It does stick out so wall-mounting is currently awkward. There's a thread here about that:
https://tidbyt.discoursehosting.net/t/alternate-backplate
To summarize, trying to come up with a wall-mount bracket that would hide the cable entirely, without compromising on the design of the device when it's not wall-mounted.